Spring/Summer fashion trends for 2019 have already been decided thanks to the catwalks at New York, Paris, Milan and London Fashion Week.
It seems that 2019 is going to be fabulous, only because all the most popular fashion trends are here to stay. I'm talking about cycling shorts, neon colors, red and pink outfits, patterned suits and the newest one – TYE-DYE Trend.
The takeaways: the '80s is still going strong, as well as prints, see-through fabrics, and as a general motto, the bigger the better—big hats, big shoulders, big bows.
So, if you want to be the most fashionable person on the planet, this is what you need to know.
From the colours you'll need in your wardrobe to next year's 'it' print, here are all the spring/summer fashion trends we'll be wearing this year.
1. Monochromes
One-color suits and playsuits were a major trend on many shows, especially in vibrant colors. Yellow is probably the strongest trend among colors this summer.
The biggest trend is cycling shorts combined with long blazers.
2. Neons
Neon has already made its way to our high street fashion thanks to a number of celebrities, mainly Kim Kardashian who was working some fluorescent hues of late from the beginning of 2018. And it looks set to continue into 2019.
Neon brights were everywhere on the catwalks for spring/summer. Think tailoring, two pieces, capes, bodysuits, dresses – as long as it looks like a shade of highlighter, you're good to go.
3. Aspen Gold
Marigolds are going to be everywhere in 2019, and I'm not talking about your mum's favorite rubber gloves. Sunny yellows lit up runway shows at Carolina Herrera, Oscar De La Renta, J. JS Lee and Brandon Maxwell.
Regardless of the shows, Pantone declared a handful of colors that would be the "it" colors of the season. Among them: Aspen Gold. The marigold yellow hue – along with an array of other shades – was part of the Carlstadt, New Jersey-based company's pricey Spring/Summer 2019 Colour Planner, a "lifestyle color trend forecast that offers seasonal inspiration, key color directives, suggested color harmonies  women's, active, color cosmetics, interior, industrial and multi-media design.
16. Sheer
Remember that time in, like, 2010, when everyone was wearing see-through clothes? This is like that but everything on the bottom is sheer including all types of pants, all types of shorts, and all types of skirts.
From fresh face Laquan Smith to established houses like Oscar de la Renta, designers are freeing the nipple with sheer appeal.
Are you ready for this risqué trend this summer?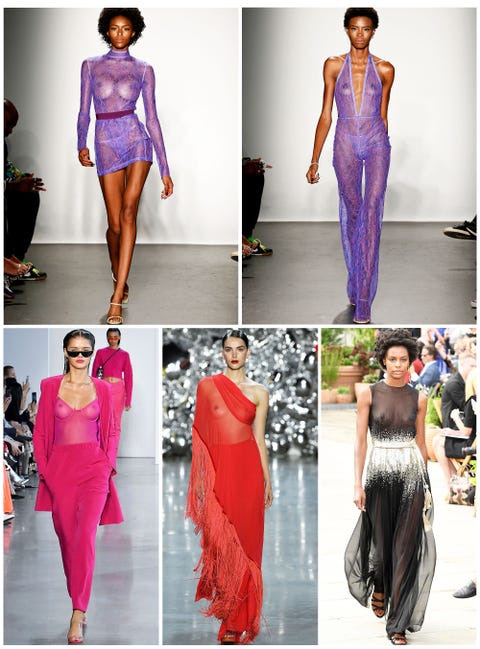 17. Puff Sleeves
Sometimes an offshoot of the princess dress trend, and at other times all on their own, were puff sleeves as part of the spring 2019 fashion trends. These romantic sleeves are perfect in the wardrobe of anyone who likes to stand out without revealing too much.
18.

 Romantic Lace
It might be easier to ask where wasn't there any lace on the spring 2019 runways. Lace is the definitive fabric of the spring/ summer 2019 fashion trends, going hand in hand with many other ultra-feminine trends.
At Alexander Wang, lace was paired with more sporty designs, in unique urban meets romance vibe.
19. Red-Hot Looks
Get ready to see tons of this color in stores and online. Ashley Graham shows how to absolutely slay this hue while walking the Prabal Gurung show, here.
20.

Sequins and More Sequins
Dresses with sequins are a huge look for Spring/Summer 2019 seen at Paris Fashion Week, and when you get them in gold and silver, you certainly feel like a princess. More is more this season, and brightly glittering sweater dresses, fringed jackets and sparkling skirts are all part of the magic.
The future is full of sparkle, so we better get in on it.